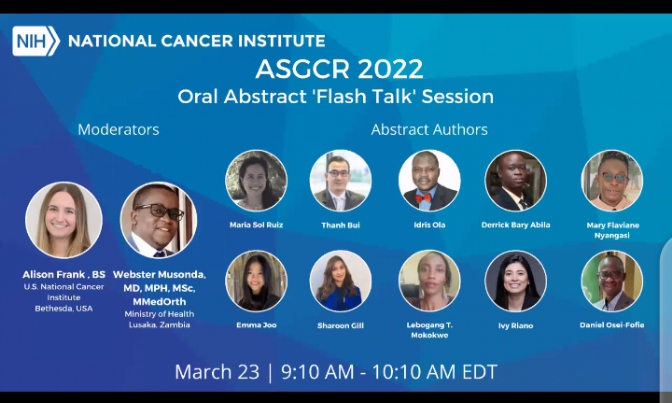 The prestigious National Health Institute's Annual Symposium on Global Cancer Research gave a new lease of validation to our cancer model as our founder/CEO Dr. Ola was given a speaking role at the 10th Annual Symposium on Global Cancer Research in March 2022. He presented our work on "Evaluating the effectiveness of a hybrid model for mobilization of women for cervical cancer screening; A preliminary report of a pilot project in Nigeria. A case study of the Blue-Pink Center for Women's Health, Lagos, Nigeria."
The speech offers the opportunity to introduce our new cervical cancer control model in Lagos, Nigeria, and set the stage for more international engagement and application in order to accelerate the WHO's 90-70-90 target by the year 2030. This model has also been scheduled for publication in a special issue of the American Society of Clinical Oncology's JCO Oncology journal later in the year.
An interactive poster session at the event witnessed massive engagement and interest for our model from participants, researchers, and other key actors in global cancer control present at the gathering.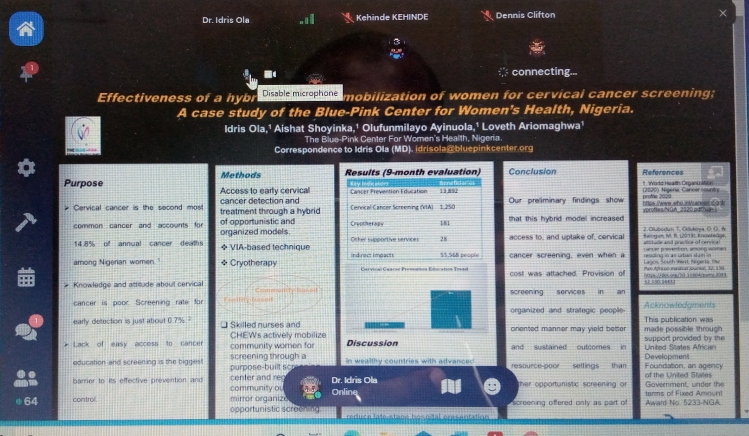 Several follow-on meetings have been scheduled with various persons to discuss in detail the model that we are pioneering in Lagos, Nigeria.
The head of the organizing team Dr. Elvridge expressed her appreciation for our organization and the team for delivering such an engaging and highly educative presentation that captured the innovations we've introduced to cancer control.
For further reading on our poster presentation (Poster no. 6), kindly click here https://events.cancer.gov/cgh/asgcr/posters-2022